Dr Paul T Thomas
'The Business Doctor'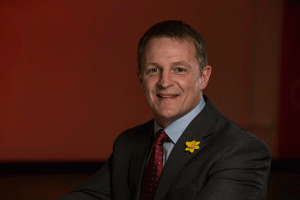 Following the success of our first annual business breakfast last year, with over 85 businesses represented and fantastic sponsors, we are delighted to announce that we will be running this successful event once again. This is an excellent opportunity to meet before the show, promote your business, network freely and listen to our fantastic guest speaker, Dr. Paul Thomas.
Dr. Paul Thomas is Co-Director/Founder DNA Definitive, Visiting Research & Leadership Fellow at Plymouth University, Founder DNA Wales/UK, Chair of the Chartered Management Institute, Wales and the BBC Wales Business Doctor. An internationally respected speaker, authority on business and leadership and published author.
Paul is currently the subject of a BBC Radio Wales@Work Special called 'The Business Doctor' documentary series on changing the mindset of business and placing organisational sustainability through the empowerment of frontline staff.
You are invited to hear his remarkable talk
Simplexityâ"¢ Leadership: Making Success Simple
Friday 7th July 2017
7.30 – 9.30 a.m.
Main marquee, Bridgend County Show ground, Bridgend College (Pencoed campus)
Parking is free and on site
Breakfast included
(Bacon roll, tea, coffee)
Tickets are £10.00 per person
Pop-up banner with two tickets: £40.00
(Ten spaces only, please note the stage is reserved for Show sponsors only)
Please click here to book your ticket
We are now taking donations for the business raffle so if you would like to donate a prize and promote your business further at this event please get in touch.
Our Business Breakfast sponsor package is currently available and applications are welcome.
Celebrating its 71st year, the show began in 1946 with the prime objective of raising money for a "Welcome Home Fund' for returning serviceman and to give them a desire to return to the land by way of employment. In 2015, the show attracted approx. 35,000 visitors over the weekend.
For all enquiries, including sponsorship and raffle prize donations, please contact Sherona Treen-Coward by email secretary@bridgendcountyshow.org.uk